Careers Provision

What is Careers?
"It is about young people finding purpose, discovering what matters to them, their place in the world, the point of studying and getting up in the morning. Sometimes people think careers is just information about options and planning for the future. It is so much more. It can give hope, meaning, purpose, self-esteem and the ability to navigate the changes of life". (L. Hambly, 2022)
Why is Careers Education so important?
At RGS we pride ourselves on having a whole-school approach to careers and higher education, with departments providing subject-specific information and relevant opportunities to all of our students throughout their time here.
We believe that, in order to prepare pupils to the ever-changing world of work, it is important to provide Careers Education, Information, Advice and Guidance (CEIAG) which is forward-thinking and considers individual needs.
Our view is that whilst academics remain a key part of school life, only if it is consolidated with character education, co-curricular opportunities and careers education, are we truly preparing pupils for life beyond school.

Meet the Careers Team
Mrs Thakrar [MSc, LSE] is the Careers Lead, heading up the Careers Department, working closely with pupils, parents, staff, volunteers and external parties. A qualified Psychologist with the British Psychological Society (including Level A & B Psychometric testing qualification), Mrs Thakrar also has a strong background in industry, having worked in student, graduate and experienced hires' recruitment across all vectors in global organisations, before entering education.
She is a "Champion Careers Lead", a title awarded to her by the Careers and Enterprise Company from the DfE. She often leads county meetings with Buckinghamshire schools sharing good practice in Careers Education, has written articles for the DfE about Careers Education and delivered national seminars in this field.
Pupils can approach her for:
Support choosing A Levels / GCSEs
Careers market knowledge
Employer connections; Work Shadowing; Work Experience
Interview preparation
Application processes
CV Clinics
College/Apprenticeships/Alternative pathways
Gap Year Information
General careers advice
Alumni connections
Mrs Morley-Smith is the Careers Administrator and provides administrative support to Mrs Thakrar.
Mrs Thakrar and Mrs Morley-Smith can be reached on: 01494 524955 and careers@rgshw.com
Miss Munday, Assistant Head, is the Senior Team link for the Careers Department.
We also work very closely with DRAssociates, with whom we outsource our qualified career guidance sessions for our pupils. DRAssociates provide impartial advice on career paths and next steps both 1:1 and in groups. The Careers Team assesses pupils' individual needs and books sessions accordingly with our careers adviser. Other pupils can request a session with Mrs Lewis by emailing Mrs Thakrar.
Follow the RGS Careers Department on Twitter
Careers Bulletins
Below are RGS' Careers Bulletins which are sent to pupils, parents and staff:
Careers Booklet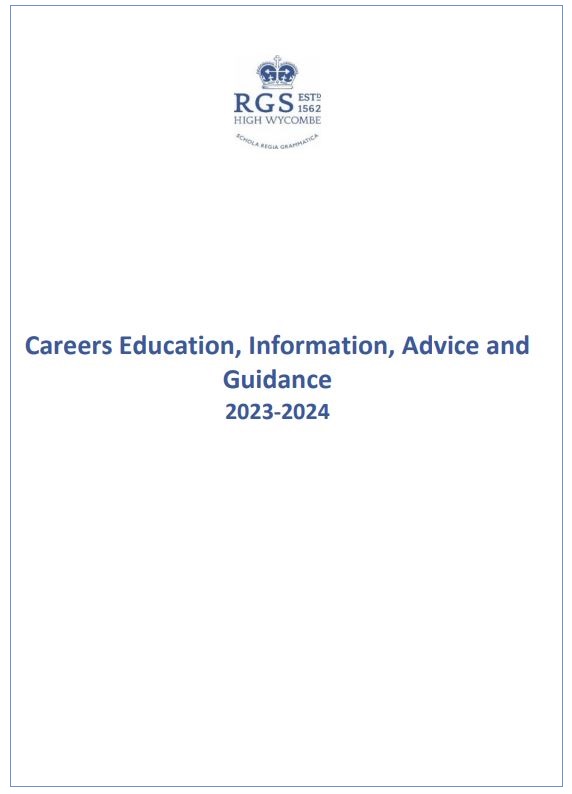 Our Aim and Our Careers Policy
The primary function of RGS' careers provision is to equip our pupils with the skills, knowledge, experience and encouragement they need to develop their career prospects throughout school and lifelong once they leave.
The careers education they receive will help them transition successfully to a future career path by:
Evaluating potential routes;
Building on their levels of engagement and motivation;
Providing curriculum opportunities to build on employability;
Connect subjects to careers and supporting them in their interests and aspirations.
It is our objective that through the careers provision, pupils will progressively build a toolkit of knowledge, skills and attitudes through a planned programme of learning both in school and via external encounters, helping them make informed decisions about their study and/or work options enabling effective participation in their working life. Supporting pupils in making well informed choices will lead them to a more optimistic outlook on life, helping make them become positive contributors of society.
You can find our Careers Policy here.
The Careers Programme
The RGS Careers Programme runs from Year 7 to Year 13 as we believe that it is crucial to build on a plan of support that is progressively more targeted as pupils move across to the older year groups.
Pupils are privy to a holistic programme of Careers Information, Education, Advice and Guidance which is delivered through the curriculum and through dedicated careers activities both in school and through visits.
All staff play a key role in enabling pupils to develop their subject knowledge and how it links to prospective careers and also in equipping pupils with character-building and employability skills which are wholly important in their next steps after school.
The aims for our Careers Programme are to enable pupils to:
Understand themselves and leverage their key competencies
Be knowledgeable regarding all the options available to them
Take part in employment-related activities both in school and in the workplace
Feel confident to make informed decisions about their future
Understand information about the current labour market and its latest trends
Embrace change, feeling supported during transition periods
Be mindful of their personal brand awareness, managing how they carry themselves in the outside world, immersing themselves in opportunities in a proactive way and being resourceful
For our detailed Careers Programme by year group, click here.
It is reviewed each academic year in the Summer Term.
Gatsby Benchmarks & Provider Access
A stable careers programme
Learning from career and labour market information
Addressing the needs of each pupil
Linking curriculum learning to careers
Encounters with employers and employees
Experience of the workplaces
Encounters with further and higher education
Personal guidance
Provider Access Policy
In line with RGS' legal obligations under Section 42B of the Education Act 1997, the Skills and Post-16 Act 2022 of guidance from the Department for Education (DfE) on careers guidance and access for education and training providers, below is our Provider Access Policy.
RGS will organise:
2 encounters for pupils during the 'first key phase' (Year 8 or 9)

All pupils must attend
Encounters can take place any time during Year 8, and between 1 September and 28 February during year 9

2 encounters for pupils during the 'second key phase' (Year 10 or 11)

All pupils must attend
Encounters can take place any time during Year 10, and between 1 September and 28 February during Year 11

2 encounters for pupils during the 'third key phase' (Year 12 or 13)

Pupils can chose to attend
Encounters can take place any time during Year 12, and between 1 September and 28 February during year 13
Implementation
A 'rolling programme' over a four-year period from Year 8 – Year 11, will be delivered as part of the larger Careers Programme. For the academic year 2023-2024 the below is in place:
Year 8: Berkshire College of Agriculture Post 16 Options talk Apprenticeships talk with BAE Systems
Year 9: Berkshire College of Agriculture Post 16 Options talk Apprenticeships talk with BAE Systems
Year 10: Henley College Post 16 Options talk and Apprenticeships talk with PwC
Year 11:

Henley College Post 16 Options talk and

Apprenticeships talk with PwC
Year 12/13: Apprenticeships talks, including tips on preparation and application from:

EY

Zenopa

Department for International Trade
All students in Years 8-13 at RGS are entitled to:
Find out about technical education qualifications and apprenticeship opportunities as part of our careers programme, which provides information on the full range of education and training options available at each transition point
Hear from a range of local providers about the opportunities they offer, including technical education and apprenticeships, e.g. through activities and events such as options events, assemblies and taster events
Understand how to make applications for the full range of academic and technical courses
Management of Provider Access requests:
Procedure
A provider wishing to request access should contact our Careers Lead, Mrs Thakrar on swt@rgshw.com or 01494 524955
Opportunities for access
A number of events, integrated into our careers programme, will offer providers an opportunity to come into school to speak to students and/or their parents/carers. Examples are included in Implementation above and in our Careers Programme.