The cliché is that big players and big teams turn up for the big occasions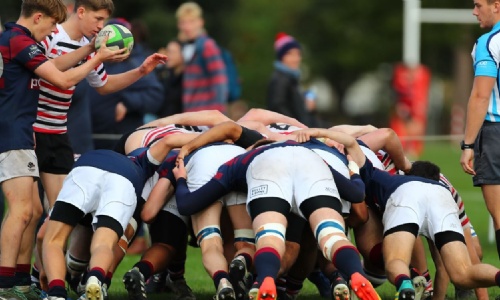 Did rugby ever look so spell-bindingly good? This weekend will produce consecutive days and nights that no doubt will be as beautiful as they will be gripping.
A mouthwatering weekend of rugby begins with an absolutely fearsome draw. No, we're not just talking about England's unfinished business with South Africa after being hammered 32-12 by them in the final four years ago.
Once more, a 16-strong field will assemble at St Joseph's College to win the De La Salle Trophy. The event, established in 1986, has now become one of the most prestigious schoolboy rugby tournaments in the country, an established date on the calendars and fixture lists of some of the country's top rugby-playing schools.
The cliché is that big players and big teams turn up for the big occasions. Enjoy what we are sure will be fantastic sporting events, played in the very best spirit.
Support our 1st XV and follow all the action this weekend at St Jo's.
The Draw
There are two newcomers to the draw this year, Blundell's from Devon and Cheltenham College from Gloucestershire, replacing Hurstpierpoint College and Marlborough College. The reward for both is a challenging draw. Blundell's are drawn in Group 3 alongside 2017 champions and one of the favourites for this year's title, Brighton College, while alongside those two are Scottish giants Strathallan, the only school so far this season to have stopped the runaway train that is George Watson's. Completing the group are 2015 Plate winners Denstone College, who came within a whisker of defeating the eventual champions Millfield in the De la Salle trophy semi finals, how they would like to go a step further this year.
Cheltenham College's draw is no easier, alongside them are the 2019 champions and 2022 Plate winners Wellington College, another of the big contenders this year, as well as the side that lost to Wellington College in each of those respective finals, Kirkham Grammar School, and likewise they are expected to be among the toughest competitors. Every competition has its group of death though, and Group 2 might just be it because completing the group are RGS High Wycombe, 1999 champions and multiple finalists, who are enjoying arguably their greatest season since those heady days.
Day 1, Pitch 1
10am - RGSHW v Kirkham Grammar
1pm - RGSHW v Cheltenham College
3.30pm - RGSHW v Wellington College
The Format
The Group stage is merely the Saturday appetiser to Sunday's blockbuster knockouts. On Sunday the top two from each group will progress to the De La Salle Trophy quarter-finals. The bottom two to the Bowl quarter-finals.
Winners of those quarter-finals will qualify for their respective semi-finals, while losers in the Trophy quarters will head to Plate semi finals and losers in the Bowl quarters to Shield semi-finals.
Winners of the semi-finals in each of those four competitions will reach the finals, while losers will meet in the third place play-offs in each of the four competitions, giving every side in the competition a final ranking from 1 to 16.
Live Streaming: Follow all the live action and professional commentary.
The School's Rugby Greats
Former rugby Old boys include Nick Beal and Matt Dawson (Lions and England) and tragically Nick Duncombe (England and Harlequins). Tom Rees (England and Wasps), Christian Scotland-Williamson (Worcester & Harlequins), Chris Elder (England U18, Wasps, London Welsh & Yorkshire Carnegie), Tom Howe (England U17, Wasps & Worcester), James Tunney (Wasps), Jack Wallace England U16& U18, Wasps & Bristol), Tommy Allen (Scotland U18 & Italy, Perpignan & Zebre & Harlequins) and Christian Wade (Lions, England, Wasps Racing 92) are just some of the players who have stamped their mark on the Festival before going on to international fame.