TOULOUSE EXCHANGE 2019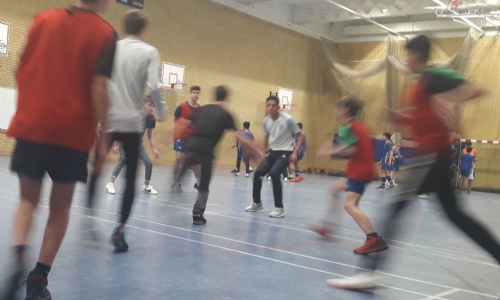 The Toulouse exchanges talk about their trip in England.
Saturday 2nd February, our flight landed in London Heathrow. After travelling by car, we met our pen-friends and their families near the RGS. We were welcomed by them and they were very warm-hearted. Our pen-pals had organised some activities in order to share their culture with us, like going to parties, going shopping, eating out, visiting London and many others things. At the very beginning it has been puzzling because it was a break from our usual routine, but after a few times we managed to adapt to the English system. We felt ready to start our work experience in different places.
Five of us were in RGSHW and it was cool for us because we could not only see what was related to our placement but also how schools are working here. For example, we were surprised by the short length of the school days. Moreover, the staff and all the students were really nice and understanding with us.
Two of the French students were at the Sports Department. They were delighted with this work placement because they had the opportunity to see how P.E. is taught in England, and they said : "it's very different from France". They enjoyed working with the boys and were really amazed by the school's equipment. One of the teachers, Scott Slade, said that it was brave to jump into a new country of which language is different from theirs. He added that it was a nice experience if they wanted to work abroad later.
We, the three remaining French students in RGS, had been working at the library and at the marketing department. In the morning, we helped Mrs Jones with the books : it was a quiet place to work and it allowed us to improve our English. In the afternoon, with Mrs Bignelli we tweeted on the RGS account, took photos, interviewed people and finally we wrote this article.
During our internship, we went to Highworth Combined School and Nursery to interview three French students who did their work placement there. Claire Pankhania, the Head-Teacher welcomed us. Even though it was the first time they had French students doing their internship in her school, she said that it was a real benefit for her school. It was great: they were able to help the children in their learning of French. The girls working there, were happy as well because they had to organise a "French Day" on Friday. They had a lot of responsibilities and trust given by teachers which was a great feeling.
So there are three good experiences for French students but there are many others. Overall we spent a really good time in England and we are looking forward to see them in Toulouse.
Elise, Alexis and Gabriel.