Tickets available for Sportsman's Dinner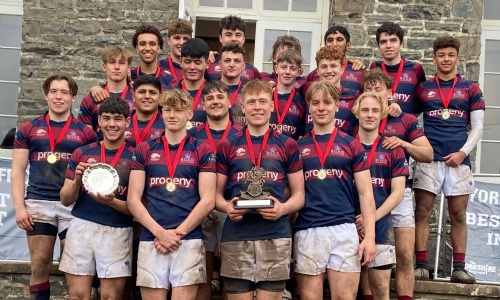 Friends of Rugby (FRORGS) are delighted to invite you to the 2022 Sportsman's Dinner on 6 October to raise funds to support the outstanding rugby programme at our school.
We are thrilled to announce that David Flatman, former England international and celebrated pundit, will be returning as your guide for the evening. This year, Flats will be joined by his podcast co-host, former Wales international, Tom Shanklin. Flats and Shanks promise to bring a live version of their 'Flats & Shanks' rugby podcast, full of rugby insights, anecdotes and banter. See them in action on their podcast here.
Proceeds from the ticket sales go to the every day costs of running the rugby programme at RGS.
Thursday 6 October 2022
Master of Ceremonies, David Flatman
Guest Speaker, Tom Shanklin
The Queen's Hall, Royal Grammar School, High Wycombe
Pre-dinner drinks from 6pm; dinner at 7.30pm and carriages at midnight
£80.00 per ticket
Four course gala dinner plus coffee
Full bar - Cash or Card
Silent and Live Auction
Heads and Tails
We will be taking your reservations for tables for the Sportsman's Dinner from Wednesday 1st June 2022.
Individual, small group tickets as well as tables of 10 or 12 are available.
To avoid disappointment, make sure you book a table early by emailing Vik Kapoor on vikrugby@gmail.com and quoting the following information:
1. Table head (name of person responsible for table)
2. Contact email address (email address for table head)
3. Contact phone number (phone number for table head)
4. Year group if relevant (please specify the RGS year group with which you are associated)
We will reply to confirm details of your reservation and to request payment. Payment shall be made by the table head for the whole table. If we are not initially able to offer you a table, we will be operating a waiting list with priority given according to the timing of applications.
Huge thanks on behalf of all at FRORGS for your continued support for rugby at RGS, and we look forward to welcoming you on Thursday 6 October
Francis Kucera
Chair, Friends of Rugby of RGSHW