RGS Centenary Sportsman's Dinner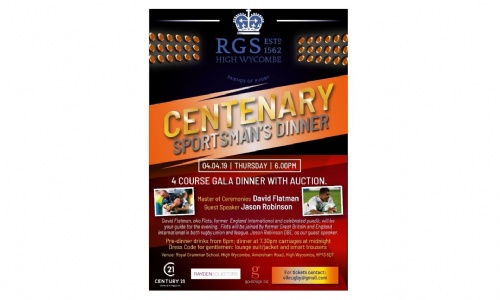 Please join Jason Robinson OBE and David Flatman at RGS Sportsman's Dinner
This year former England and International in both rugby union and league, Jason Robinson OBE will be our guest speaker and we are also delighted to welcome David Flatman, aka Flats, former England international and celebrated pundit as Master of Ceremonies.
For tickets please contact vikrugby@gmail.com. Demand is exceptionally strong, and therefore an early indication of interest would be much appreciated. Once we have received your request we will send details of how to confirm your booking and send payment.
Huge thanks on behalf of all at FRORGS from our sponsors Rayden Solicitors and Century 21, and for your continued support for rugby at RGS. We look forward to welcoming you on Thursday 4th April 2019.