RGS win first place in Annual Technology Tournament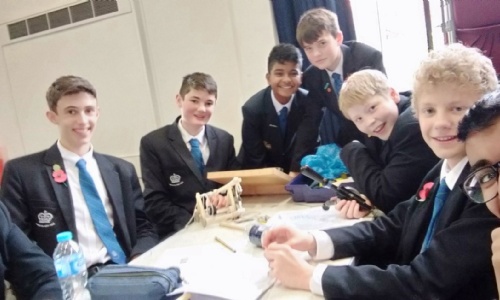 The Annual Technology Tournament organised by the Wycombe Rotary Club took place this year on the 8th November at John Hampden Grammar School. Approximately 25 schools take part each year, amounting to more than 40 teams. Our Year 10 team consisted of Kieran Cranley, Matthew Duxbury, Aditya Kailaje and myself, Andrew Hayes. We were given five hours to solve an engineering related problem that was previously unknown to us until the challenge was revealed: to design and build a crane that would remove explosives from the wreckage of a vehicle.
We worked collaboratively to formulate a number of design solutions, given just some pieces of wood, pulleys, a few wheels, string and adhesives. Once our prototype was constructed we had to place it on a long track and used a self-built pulley system to lift the explosives out of the wreckage while constantly remaining at least 80 cm away from the crane.
Toward the end of the day the work was judged by a panel of experienced product designers, architects and engineers and we obviously impressed them enough for our working prototype to be given first place! We had a lot of fun and enjoyed winning, especially when we beat two John Hampden A-Level teams.
Andrew Hayes, Year 10