Y13's Celebrate Leaver's Day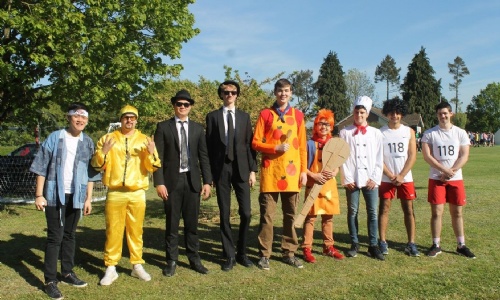 Y13's celebrate before going on study leave. Good luck to all for their A Levels!
Leaver's Day is a day when Year 13 get to celebrate their time at RGS with friends and teachers. It's a community event, with hot dogs, burgers and ice creams to snack on and endless fun activities to enjoy such as Bucking Bronco. Leaver's Day is really just an excuse to have fun in the sun and let off some steam before the exams begin next week. One of my favourite things about Leavers Day is the 'dress up' element, which for me involved a Blues Brothers duo with a fellow boarder (David). It was simply brilliant to get to meet up with friends one last time before the exams.
A short assembly started the day with some anecdotes from the past two years or for some seven years. We then split into friendship groups and spent time on a variety of activities; football, bucking bronco, Sumosuit Wrestling, Bungee run, Inflatable obstacle course, Inflatable Knockout, Softball, refreshments, ice cream and finally a BBQ. A great day to say goodbye to school friends and teaching staff and a hugely welcome break before our exams start. Good luck to everyone for their A levels.
Hugo Shotter Fraser Youens House 2017-19.