Great Boarding Bake Off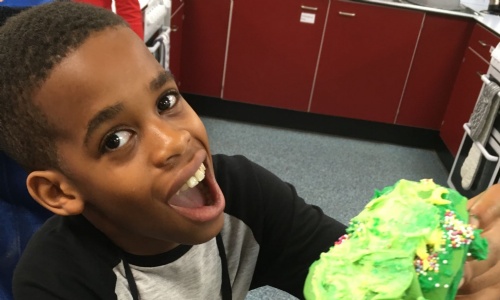 Question: What do you get when you cross 20 budding bakers with only 8 ingredients each? Answer: An absolute triumph to make the likes of Paul and Prue proud... perhaps!
Tonight we celebrated 20 boarders' baking (in)abilities! It was an absolutely joyous event with representation across every single year group within Fraser Youens House. The bakes varied from the imaginative to the simple but successful, right across to the downright disastrous (I'm pretty sure the boys will agree!).

Mr. Scourfield, Mr Huelin and Mr. Lee took their role as judges very seriously, marking the cakes for taste, overall appearance and quality of the bake.
All the boarders put time, care and effort into their bakes and the judges had a tough decision on their hands. In 3rd place came Josh and Jack with their take on a Custard Tart. They got a special mention for the most professional looking bake. In second place came Theo and Gareth with their chocolate chip cookies, delicious and the 1st place proud winners were Tom and Rory with their exquisite chocolate Easter cake.
I thoroughly enjoyed running this activity and the boarders showed their creativity and usual willingness to have a go at something new. All of you participants should feel very proud of yourselves. Don't hang up those apron strings just yet - there will be more opportunities to come!
Miss Lawson
On Wednesday boarding had a baking competition. Everyone had prepared well, although some more than others. Tom and I were planning to make an Easter cake which was a sponge cake base with chocolate icing and chocolate eggs. Everything went well apart from we didn't turn on the oven for 20 minutes which meant we were a bit time pressured. Tom managed to use his fine artistic skills to spread the icing onto the cake in order to make it look very appetising. After finishing the design of the eggs to decorate the cake we managed to just get the cake ready for testing. We were a bit shocked when we won due to the fact there was some difficult competition. Especially Josh's and Jacks custard tart which looked amazing. I would also like also mention Awad's and Adam's cake which looked err…..somewhat interesting and seemed to mainly consist of ice cream which they ate. Overall it was a great fun competition and thanks to Miss Lawson who made it happen and the judges who made an impeccable decision for a well-deserved win for Tom and Rory.
Rory Brady