12 Days of Christmas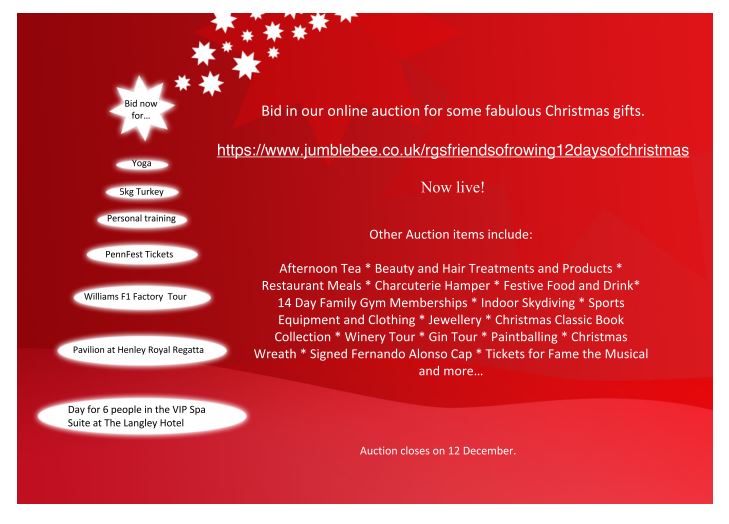 Welcome to our online auction – your chance to bid for some great Christmas gifts at the same time as helping us raise money for a new boat so that all those boys who want to experience rowing as an extra-curricular sports can continue to do so.
Click here, on the top blue tab of the website or twitter for the auction link which is now live and will run until 12 December.
We would like to thank all of the businesses who have so generously donated auction items, and thank you in advance for what we hope will be generous bidding! Your support is very much appreciated.
Friends of Rowing

Thank you to .....
Locker Days
Brasserie Blanc
Langley Hotel
Williams F1 Racing
Copas Partnership
Yoga By Bean
Waitrose
De Marsac The Jewellers
The Training Station
Mulberrys Beaconsfield
Experience Days
The Beech House, Beaconsfield
Christmas Inc
Chiltern Charcuterie
The Compleat Angler
Waterstones
Laithwaites
David Lloyd Gyms
SportsNut
The Tree Barn
PennFest
Abstract Hairdressing
Cook
Odds Farm
The Giggling Squid
Skirmish
Griffiths Brothers Gin
Sainsburys
Chiltern Winery and Brewery
Hawkinsport
Space NK
Benedicts
JonJames Menswear
Haringtons
Saltee Skincare
Make-up for TV
The Troubador Theatre, Wembley Park
The Zen House