RGS Mathematicians National Winners!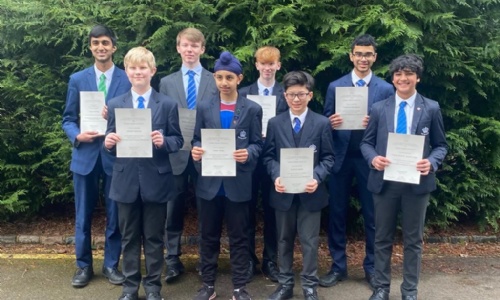 Congratulations to our Key Stage 5 pupils!
'The All England Grammar School Mathematician of the Year' is a new national competition, compiled and hosted by Dr Tom Crawford of Oxford University. Students from over a third of all grammar schools in England entered November's inaugural contest, including 22 RGS mathematicians across the Key Stage 3, 4 and 5 categories.
Congratulations go to James Heaven, Ishbir Singh and Nakul Nataraj, who were top RGS scorers in their age group. We were particularly delighted to learn that Nakul has been crowned the national Key Stage 5 'Grammar School Mathematician of the Year' He wins £500 and a place in a Masterclass at Oxford University with Dr Tom Crawford.
We are very proud of you!
'Honours Board'
Key stage 3
1st James Heaven
2nd Joshua Levan
3rd Ryan Allbrook
Key stage 4
1st Ishbir Singh
2nd Tharul Wanni- Arachchige
3rd Basil Qureshi
Key stage 5
1st Nakul Nataraj
2nd Henry Daley
3rd Pratham Bhargava